Friday, December 6, 2013
Thursday, December 5, 2013
"
it's not too wind-torn
out there — these shutters are
just for show. You have
the warmest bones I've ever
met. The woodpile is dwindling
while my androgyny is a perfect
child that cannot stack.
In the cluttered road, it is
an industrial maneuver
to threaten the neck when it
is the only flora found
upon us. Pedestrian, I mean
to tell you I keep forgetting
the hope I was hoping for.
When the grasses reclaim
the streets, the pedestrians
take to the woods. Luckily,
I hid the ax in the stem
of the factory's floral design.
Remind me how your bones
are warmer than kindling.
There is something living in these
lives I've not yet found.
"
Julia Cohen, "Hello Pedestrian, I Hope" (via wecouldstartaruckus)
"
'So, in our situation,' continued the philosopher, 'allusions play a vital role. Not calling a thing by its name reveals what it is; allusions have suggestive power, they reach into the listener's subconscious. Therefore, an undisclosed truth becomes a public truth. The tension caused by the hunger for truth or, rather, I would say, by people's complex about truth , those dangerous tensions are artificially eliminated by a skillfully employed allusion. For that reason, allusions should not be repressed; quite the contrary, they must be encouraged, people must be taught to make more intelligent, more meaningful allusions. After a certain amount of time, people will prefer an allusion to the truth itself. Because an allusion is, in its own way, a sort of an art form. An allusion is truth clad in metaphor.'
'I was always an admirer of the Censorship.'
'Let's be frank, not everything functions correctly here…'
"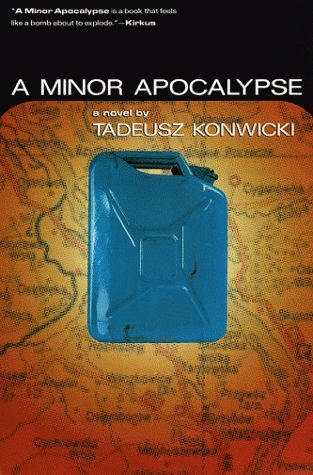 A Minor Apocalypse, Tadeusz Konwicki (tr. Richard Lourie)
Tuesday, December 3, 2013
"
Mnie z nim wiele łączy. Jego ze mną mniej.
"
Tadeusz Konwicki "Mała apokalipsa" (via niiixon)